B-17 Restoration Project at Museum of Aviation
B-17 restoration project moves forward at Museum of Aviation
When the plane arrived in 2015, it was in pieces. Now, five years later, it has been reassembled, but one volunteer said they still have a ways to go
WARNER ROBINS, Ga. — Volunteers at the Museum of Aviation are working to restore a World War II era B-17 to its former glory.
When we showed you the plane back in 2016, it was still in pieces after arriving from Indiana a year earlier.
Now, the plane has been reassembled.
Michael Allen Woods is just one of the volunteers who has been working on the project.
"This played an important part in freeing the world back in the 1940s," said Woods. "This is living history. Once it's gone, there's no replacing it."
He said they are working with a blueprint from the Smithsonian to get it back to its original condition.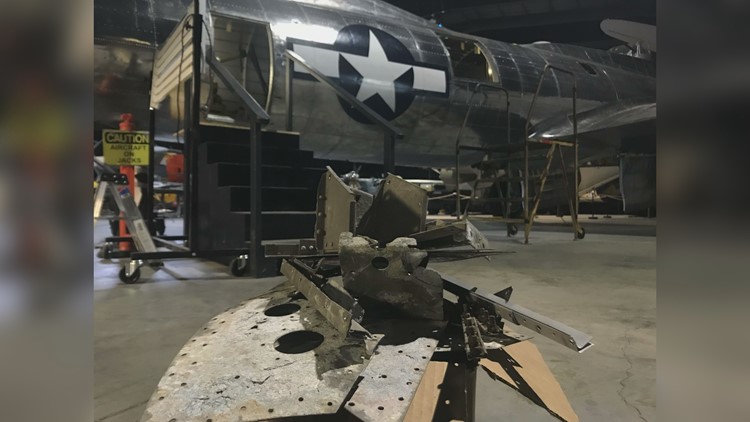 WMAZ
"We're really going to the finite detail of this aircraft. We're obligated to the national museum to get it back to archival standards as close as possible."
He said the outside is pretty much complete, but the inside still needs some work, including the 'bomb bay' and the radio room.
"I call it a battle of inches. You can't see your progress in weeks or months. You gotta judge it by several months."
Woods retired from the USAF five years ago after serving as a flyer for 35 years.
He said he was home for about two months before his wife told him to find something to do.
"I was driving her crazy at the house," Woods said, laughing.
He decided to stop by the museum to take a look at the plane, where he met Mike Tipton, a fellow volunteer.
"He said, 'Can I answer any questions?' I don't know what came over me. I looked at him and said, 'Yeah, I've got one question. Do you need any help?'
Woods said nearly 13,000 B-17s were built during the war and almost 6,000 were shot down.
Now, there are only about 50 left in the world.
The particular B-17 never saw combat during World War II. It came off the assembly line in May 1945, which was the month Germany surrendered.
Woods said they are fortunate because Grissom Air Reserve Base in Indiana has a B-17 that is, as a whole, beyond repair, but they have been able to take bits and pieces to restore for their plane.
The $400,000 restoration project is being funded exclusively by donations.
He said they aren't restoring it to actually fly or be combat ready, but it will be awfully close.
"Truthfully, it is fun. We like to gripe about it, but it is fun," said Woods.
The timeline for finishing the plane is a little uncertain, but they hope to have it completely finished in the next four years.
https://www.13wmaz.com/article/news/local/museum-of-aviation-b-17-restoration-project/93-766e785c-6f95-4cc5-9b74-7051cc4587f0